Hey guys, yes I'm still here and did not drop off the face of the earth. I know it's been forever, no excuses here, just a little, ok probably not little knowing me, update on what the hell has been going on the last year....
Unfortunately the laptop is still broken, it works, but the monitor is shot, so I can still plug it up and use it. Which is a good thing because this desktop is getting too old and too slow and has none of my CSI clips on it. Seriously it took my months to make those clips, and I cannot transfer them because my CD drive doesn't really work on my laptop, or the USB ports, and this computer couldn't make a damn thing anyway.... but I still have them. We did get our air fixed, three weeks later, and let me tell you, no air in AL in summer is hell.
Yes, I am still into CSI as much as I ever was. I actually like Lawernce Fishbourne on, something new after all these years. I don't miss Sara one little bit, but I miss Warrick horribly, and cried all the way through "For Warrick".
I'm still working at my job in the Nursery at our Mother's Day Out, and I do love it, I might not love it every day, but overall love it. I'm off for summer now (Yeah), but I go back the beginning of August.
All those that have known me the whole five years, (OMG five years) that I've been in the N/G fandom will find this hard to believe, I still do and they are my kids. William will be starting the 5th grade and turned 10 in Feb, and Jacob, will be starting 2nd grade and will be 8 in September. They look so old, I guess because they are....
Well here's one thing that's kept me busy this past year... Jacob was diagnosed with PDD-NOS (Pervasive Developmental Disorder Not Otherwise Specified, yes it's a mouthful) in October. He falls right on the line with that and Asperger's Syndrome. He loved 1st grade, and was probably the best student there. He had some problems with the talking out of turn and hugging everyone constantly still, but he memorizes everything. The first half of school he really didn't understand the concept of friends and the other students, but he finally started remembering their names and identifying them as people, which is a big deal for him. He could tell you what so and so did all day long, but he didn't look on them as other children. He still really relates best with other adults and loves his teacher. Adores her more like it. He rarely has outbursts, lots of little things at school, getting up, shouting out answers, but not like the autistic outburts you normally think of... In April he had a couple at home like I've never seen before. Scared the hell out of me, because I knew I couldn't help him. One was set off be a terrible thunderstorm, which caused dinner to be late, and then everything went bad all at once. We couldn't get him to stop screaming, I don't mean a kid having a temper tantrum, screaming, and he wouldn't look at you, look through you, and he started hitting his head with his heads screaming "what's wrong with me" over and over. It was so hard. My parents think I'm making it all up, looking for a problem, and Tre thinks he needs 'help' and tries to yell at him to 'snap him out of it' and hold him down, which of course makes it worse. Then it happened again a week later, and he screamed worse if you can believe it, I was heartbroken, scared, I couldn't help. At least I have my aunt, actually it's my Dad's brother's wife. She has worked with autistic kids for over 30 years, and I can call her and talk and she understands and just listens... He was distraught when school ended, he loves it, and it actually counting down the days until it starts again...
And William, he's just so big and tall. Poor guy, I know he's had a rough year, he feels like Jacob has gotten all the attention, which he has, between testing at Vanderbuilt, school, doctor's, more tests, it was hard on him. He liked 4th grade much better then 3rd, and has several more friends now. Sunday he leaves for Knoxville to spend a week there taking an Archeology course for kids at U of Tennessee, which he aunt happens to be teaching... and then off to camp in July. William's also really involved at our church which he loves and it's helped him a lot....
Tre's dad was diagnosed with Esophageal Cancer last summer. Wasn't that big, so they started treating in September with radiation and chemo until November. It was hard on him, but it seemed to work, all the cancer was gone, and on December 15th he went in for surgery to have the part of his esophagus removed were the cancer was so it wouldn't grow back. Tre went down there for the surgery. Two days later he was rushed back in for emergency surgery, he had a clot in his intestines and they were dying, so they had to cut out part of his colon. That was a week before Christmas. After that nothing went right, first it was his lungs, they had to put him on a respirator to help his breathing, he was only at 50%. Tre came back home the day before Christmas Eve. His lungs kept getting worse and pneumonia set in, then his kidney's started failing so he was put on dialysis. His lungs kept filling with fluid so he had two chest tubes put it. All throughout January, Tre was running down to Birmingham to be with him. And some of you know all about his mom. She would call up here demanding he come down, 'what kind of son are you' 'do I have to tell you he's dying to get you here' eventhough he was down there at every chance. He passed away Jan 31. Needless to say it was hard, and his mom was unbearable. I went down for the funeral, first she wanted a private service, just her and Tre and his sister, not even me or BIL. Then it was just going to be family, but not my kids, she didn't want them to come down. Now my kids are old enough to remember there Grandad, especially William. This is really the first time he had to deal with someone dying, and I had to leave them with my parents. Glenda then decided to have an open funeral, still not the grandkids, but my niece and newphew are only 5 and 3. She got upset at Tre over people calling him to give him condolences. At the house, she took all the phones because it was 'horrible' his friends were calling him. She seemed better, after the funeral that night though back at the house, she was going on how she only has two grandkids that know her and love her, and she wasn't talking about mine. I couldn't believe it. You know why she was mad? Apparently sometime back when William was 5, yes 5, after shopping all day with William, a five year old, they came back to our house, and WIlliam supposedly stuck his tongue out at her and she said quote "I knew he didn't love me or respect me anymore", Hello??? What five year old doesn't act up, and if it was that big a deal tell me at the time.... And William never acted like that, but that was five freaking years ago, and she is still holding it against him apparently. And no, she still hasn't seen them, it's been a year now. She was in town yesterday, and didn't see her own grandkids, but we don't try enough. I'm done with it, after ten years of trying, I'm washing my hands, Jim was the only sane one I could talk to, my kids don't need to think they're Gram doesn't love them.
So, that's the main crap from the past year. At least the site is up and running again. Yes, Matt
0creativity
is working on builing a new site from the ground up. When it's up and running, we'll have the pics back, wallpapers, video's, and I believe the forun, plus a brand new look. And a much more current of efic instead of the archaic one we're using now..
OK, here's a few new pics of the kiddies...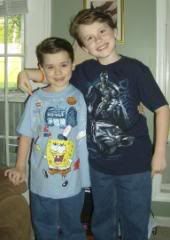 Jacob and William first day of school August 08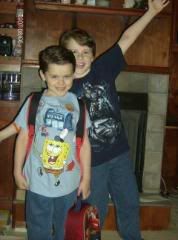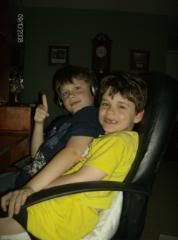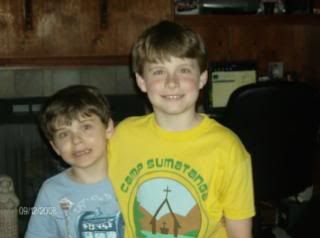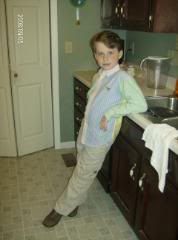 Picture day, my little model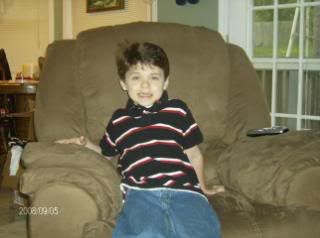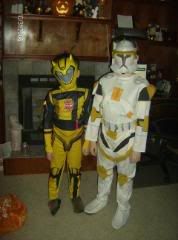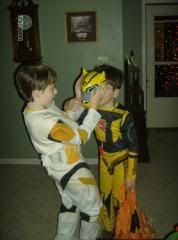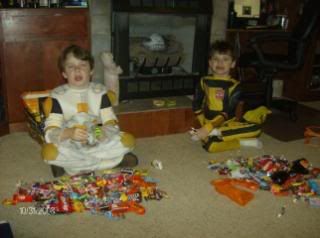 Halloween 08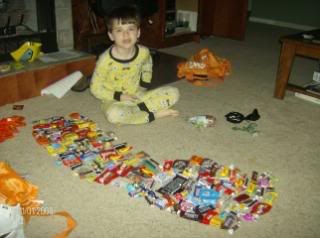 Yes, Jacob did count and line up all of his Halloween Candy, all veritical, in a rectangle, all 224 pieces of it.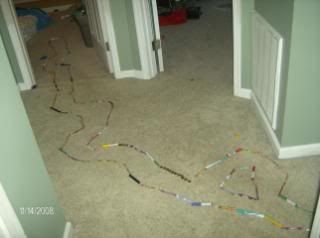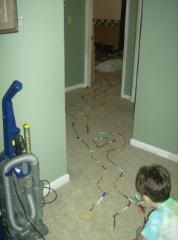 Jacob would make car tracks out of his crayons, and they would cover three rooms.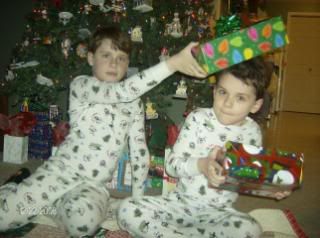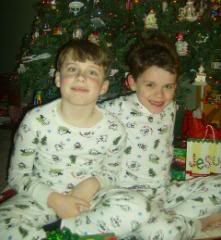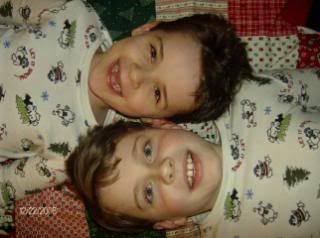 This is one of my favorite pics ever...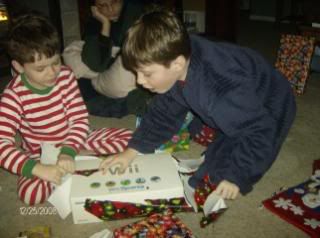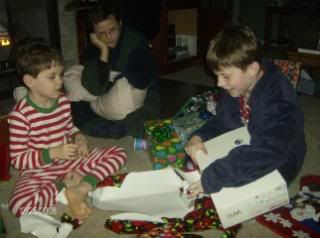 Yes, Santa brought the kiddies a Wii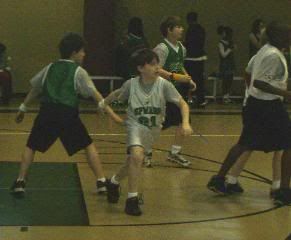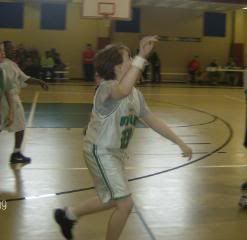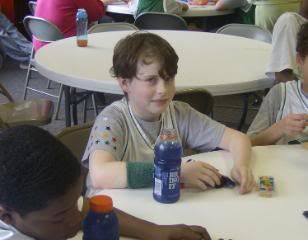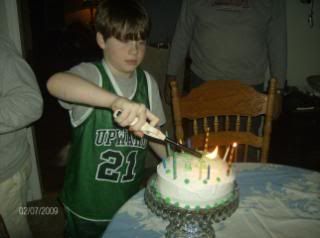 William's 10th birthday
Sorry for the huge post... missed you all.....